Description
SLA5800 Series Elastomer Sealed Thermal Mass Flow Controllers & Meters
Imagine choosing just one mass flow controller platform to handle fourteen different pressure or flow rates going into a single process. All while delivering the exact same, ultra-precise and repeatable output on the other side. That's the advanced simplicity you get with the SLA5800 Series mass flow controllers and meters.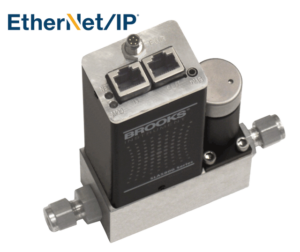 The SLA5800 Series features the high accuracy, high zero stability and high repeatability you expect from the industry leader in mass flow measurement and control technology. Engineered with a superior design – and manufactured with advanced metrology and test systems – the SLA5800 offers a better zero drift specification than competitive products. SLA5800 has been proven to maximize production up-time and reduce maintenance and machine downtime costs.
Features
NEW SLA Series Biotech MFC offers two options packages with features created specifically to improve bioprocessing performance.
Long-term zero stability of <0.2% full scale per year
Excellent accuracy
Wide range of flow ratings – from 0.003 up to 2500 lpm
Highest pressure ratings – up to 1500 psi/100 bar (optional: 4500 psi/310 bar)
Programmable multi-gas/multi-range capabilities
Independent & easily accessible diagnostic/service port
Broad array of available communication options now includes the EtherNet/IP™ protocol which features a web-based interface that lets you easily configure network settings
Modular design is easy-to-service at the factory or in the field
Benefits
Long-term sensor stability reduces maintenance and periodic recalibration requirements, reducing total cost of ownership
Proprietary Brooks Instrument thermal sensing technology delivers superior signal to noise performance for improved accuracy at low set points
Choose one device platform for different gases and flow ranges
Storage and pre-programming of up to six gas calibrations lets users easily switch between different gases and ranges on a single device, and reduces inventory
Industry certifications (USP Class VI/ADI-free) for all elastomeric material in the MFC's gas stream (wetted path) including valve seats and o-rings with the SLA Series Biotech Premium Package
Enhanced valve shut-off, wide turndown, certifications and approvals available with the SLA Series Biotech Premium Package
User-accessible service port simplifies installation, troubleshooting and diagnostic tasks without disturbing flow controller operation
Durable, robust metal top lid prevents damage during installation
EtherNet/IP™ permits multiple, additional diagnostics beyond those provided by the mass flow controller alone, giving users rich, real-time system information
Applications
Life sciences
Chemical and petrochemical catalyst research and pilot processes
Laboratory and analytical systems
Fuel cell technology
This product requires detailed information.  We'd feel better if we could talk to you first.  Fill out the form and let us know how best to get in touch with you.
[contact-form to="[email protected]" subject="I am interested in the Brooks SLA5850 Thermal MFC"][contact-field label="Name" type="name" required="1″][contact-field label="Email" type="email" required="1″][contact-field label="Phone" type="text" required="1″][contact-field label="Adress" type="textarea" required="1″][/contact-form]